Their Players Are Kindergarten Schoolboys – Ali Baba Mocks Arsenal Team
2 min read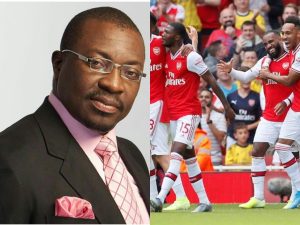 Popular Nigerian comedian and actor, Ali Baba, whose real name is Atunyota Akpobome has lashed out at English Premier League club, Arsenal over their recent poor run of form.
The ace comedian who disclosed that he has been supporting the club since 1981, said he is disappointed by the club's recent performances on the field.
"As a fan, I feel very bad especially with the fact that the Arsenal that we used to know, that had men play football, has watered down to underaged players who cannot match strength for strength with the players that we see these days.
"Just look at our defence, back in the days when you have (Patrick) Vieira, when you have Kanu Nwankwo, you will see that these are men and they will match you bone for bone, power for power. It is not these secondary school boys that are playing the game now, look at (Pierre-Emerick) Aubameyang.
"Football should be played by men. Look at the Manchester City team, they just have a sprinkling of smallies, may be two or three small boys. The real job is being done by (Sergio) Agüero and others because they have experience on their sides. This kindergarten team that we have is not the Arsenal that we used to know.
"I started following Arsenal since 1981 from the Barracks because most of the military men all followed Arsenal before Premiership even started. My dad supported Arsenal too but the Arsenal that we have now, the only thing keeping us there is loyalty," Ali Baba said during an interview with PUNCH Online interview programme, Kick&Follow.
He, however, expressed optimism that despite the recent poor run of form, Arsenal will not be relegated at the end of the current season.
But as a solution, he urged the club to sign better world-class players.
"We will not be relegated but from the time that we started coming fifth, sixth, you knew that the game was hot, and all you needed to do was to buy players and leave these feeder team to be playing underaged football. You can then bring one of them in to be playing with the big boys," he said.
Naija News reports Arsenal under Mikel Arteta are currently languishing in 15th position on the league table after struggling to win just four games, drawing two and losing eight of the games played so far this season.
On Tuesday, the Gunners were also comprehensively defeated by four goals to one by Manchester City during their Carabao cup quarter-final clash.